Copyright © 2016 GarJen Corp, All rights reserved


Anyone who has had an experience playing bingo in a country outside of
the US or Canada and would like to share it, please email us your story with any photos you would like to include and we will post it here in the coming months. info@promotingbingo.com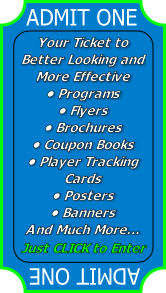 Kelowna Bingo Palace
British Columbia, Canada
Bingo in the United Kingdom
Bingo is played far differently in the United Kingdom than it is in North America. While it is still a numbers game played on disposable and electronic bingo "cards", the cards are laid out with 15 numbers in a 3x10 grid (with 15 empty spots) rather than 24 numbers (plus free space) in the standard North American 5x5 grid. The winning patterns in UK bingo are generally less complicated than in North America, and usually only comprise of one line (five numbers on one horizontal line), two lines, and full house (three full lines). This style of bingo is referred to as "main stage bingo" rather than the "session bingo" moniker typically used in North America. Bingo cards are usually known as "tickets" in the UK and are sold in increments of six paper tickets per sheet of paper. Bingo is also played on electronic devices that automatically mark the numbers called for the player as they are called.
Main stage bingo is usually played two to four times per day. Players "buy in" for ten to twenty games prior to the start of each bingo occasion. In each of these occasions, the session is broken into two parts, with five to ten games per part. Prizes per game are known in advance of the session. Games played during the first part of the session typically have lower prizes than during the second part of the session.
Numbers (or "balls") are "drawn" from Random Number Generators (RNGs) rather than by North American style bingo desks/blowers but are announced in a similar manner by bingo employees. Numbers are displayed on large digital displays and monitors throughout the club.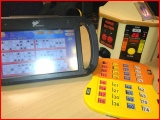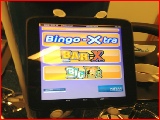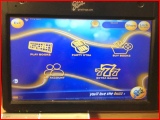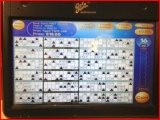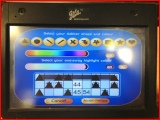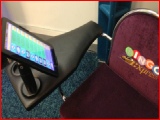 Mechanised Cash Bingo (MCB)
During the intermission between parts of the session, "interval" games known as "Cashline", "Mechanised Cash Bingo", and/or "MCB" are played on a drop-in, game by game basis, and are pari-mutuel in prize value (i.e., a percentage of the wager is paid back to the winner rather than a fixed amount). Cashline is played on electronic and plastic cards (with tokens or chips used by players to cover the numbers). In contrast to the main stage game, these cards are on 4x4 grids, and played vertically rather than horizontally. The game is played both on the electronic devices as well as on specially built tables (sometimes with the cards built in and sometimes with the cards in a hopper built in to the side of the table) that also allow players to impulsively and purposely "drop" coins in to play. The coins are then swept to the house via conveyor belts. Operators enjoy the guaranteed profitability of Mechanised Cash Bingo and promote it heavily, especially during the intermission. Operators do this through the use of specially trained emcees as well as by encouraging play by making change in coins readily available. The amount wagered per card is usually one or two pounds sterling, with occasional two cards for one "specials".
Contributed by: Steve Smallman, Gaming Consultant 1/19/16 • smallman7111@gmail.com
Bingo in Italy
If you like your bingo fast and simple, you'll like playing bingo in Italy particularly at the Bingo Modernisimo Hall in Salerno. Using 90 numbers, each card is used to play two games: (a) a line of 5, and (b) a complete card. With numbers called every 2 to 3 seconds, both games on the card took about 5 minutes followed by a 2 minute break. The format is drop in style and you pay 1 Euro for each card. Payouts for the line of 5 were 5.40 Euros and payouts for the total card was 40 Euro. A Super Total Card is played once a day for a possible payout of over 11,000 Euro.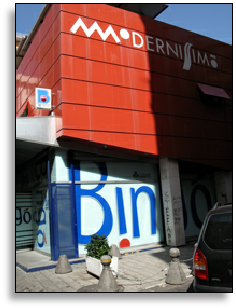 During our visit, we found that the hall offered day care for children, a large enclosed no-smoking area, FREE tomato rice and brochette served at your table with a full menu available. The Italian bingo halls are high-tech, with their giant video screens flashing numbers at a rapid-fire pace. The game in Italy is more simple than in the US and Canada. Anyone can sit down and play in seconds even if you didn't speak the Italian language.
Tables are round with 6 to 8 people per table. Players are directed to fill up tables before sitting at an open table, encouraging social interaction. Players in our section knew each other and spoke
to us using a combination of Italian and English words. They were very interested in the game payouts in the US. There was also quite a bit of chatter about the American bingo manager who won 3 out of her first 4 games. I was the rookie who enters the hall, plays one card and wins….You can guess the murmurs in the crowd…pretty much the same as in the US. But it was very friendly and amusing. Passing around my business card was a big hit.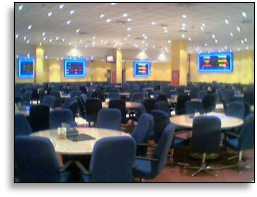 All of the bingo we could see was paper and the bingo's were computer verified and displayed on the electronic boards for all to see. It was interesting to see that the structure of the game was different from the US but the players, emotions and energy was not at all different from what you would find in a typical US hall.




Both of these
Anniversary Gift ideas are
Currently available.
Visit the websites for
All of the Details.


Both the Anniversary Bingo
& Casino Calendars are
available as gifts for your
players anytime of the year.
These are 13 month calendars that will start on your anniversary month. New options available include coupon pages, image personalization, & pocket size calendars. There are also an unlimited number of themes
to choose from.
Click the calendars above for
all of the details.