Copyright © 2016 GarJen Corp, All rights reserved

Welcome! Thanks for stopping by. The intent of this page is to share with bingo managers, useful, practical, proven promotional ideas that will help not only create some additional profit, but will help create more loyalty and referrals from your current players.
Feel free to borrow, change and transform any of the bingo ideas you find on this web site to suit your specific circumstances. In return, please email us, to send your promotion ideas that have worked well for your bingo hall and we will post ideas and comments on the web site for all other managers to review crediting you and your hall. Sign up on our email list and we will email you when the web site has been updated.
All submitters of promotion ideas will be identified with their photo and contact information on this page. Feel free to share as much or as little information about your promotion as you feel comfortable with. If additional information is required, interested managers can contact you. We encourage all managers to be participants and not just spectators. Your contributions to this effort will play a big role in the success of meeting the goals outlined on this website. All ideas will be password protected and available to bingo management only. Thanks in advance for your participation.
Today, high gas prices are taking a chunk out of everyone's
business. Many businesses do nothing but accept it and
hope that it passes quickly. The creative ones, use it
as an opportunity to improve customer loyalty and
maintain their bottom line. Be one of those!
The Latest Bingo Promotion Idea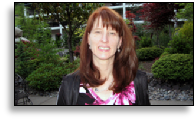 Jenynne DeNoble
promotingbingo.com
Enumclaw, Washington
jenynne@promotingbingo.com
Bingo Promotion Idea Contributed by:

SUBMITTING YOUR BINGO PROMOTION IDEAS
Click Here and Enter Your Password to View All The Details
Requires Adobe Reader which you can download free HERE.
(Have an idea? Share it here)
Bingo Management Only:
To receive your password
Email: info@promotingbingo.com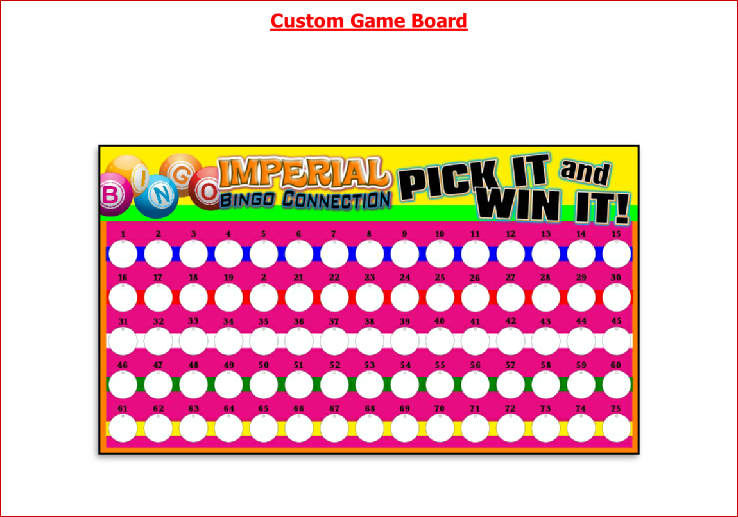 A joint project between Promoting Bingo and the BRG, this game board was designed to be versatile, easy to use and affordable. With a bit of creativity, this board can be used for any number of games throughout the year. Watch the BRG Shop Talk page for new game board promotional ideas from Clyde Bock. The board is an easy to handle 42" x 24" x 1/2" with 75 numbered hooks, designed to be fully portable and durable. The board is fully customizable with your logo and color scheme and designed and produced by Print Solution. This is a look at a board created for Clyde's hall they called 'Pick It and WIN It' using standard round 2 1/4" tags.
For more information on how to design and order your custom game board, call Gary at Print Solution for details at 253-261-2163. Or email: gary@promotingbingo.com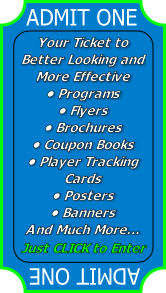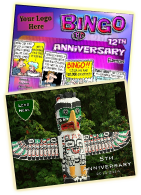 ALL NEW!!
Budget Friendly
Coupon/QR
Code Wall
Calendars
2 SIZES AVAILABLE
8 ½" X 11"
And
6" x 9 1/2"
Here is a promotional item that will not only fill the seats during giveaway day(s) but also keep players coming back all year
AND
Keep them well informed so they don't miss a thing!
We have designed these calendars to be affordable, cost effective, and with a reduced minimum of just 250!
Visit the website For All the Details.