Copyright © 2016 GarJen Corp, All rights reserved

Competing in Today's Competitive Environment (con't)
And the tool of choice to meet those expectations…the smart phone. A bigger part of most people's lives is now existing…on their phones. It is becoming their personal attachment and connection to the rest of the world. And I think we all have to admit, it is a bit strange when we leave home and have forgotten our phone. It's like being completely detached from the rest of…everything and everyone. Even for those who don't depend on their phones to any great degree. Hard to imagine what it's like for those who see their phone as just an extension of their fingers. But, not judging, it's just as business people, we need to understand our customers and potential customers. We need to give them what they want in a way that is as convenient and easy as possible. One of the most successful companies in the country, Amazon, fully understands this and it's why they introduced Alexa, and now the Echo Dot. What's easier then saying what you want and getting it? And with the introduction of this new technology, it is unwittingly increasing the expectations of the population for everything to be more and more convenient and easy and efficient. For the younger generation, this is all they know. This is just normal, and expectations of them are that things get even easier…if that's possible. I suppose you could just think what you want and get it. That's probably next.
The point is, after all this, land based bingo needs to keep up if it wants to be successful into the future. Obviously it has improved it's technology over the years, but, to keep up, I submit that the improvements need to be happening at a faster pace. Player expectations are outpacing the technological improvements currently occurring. As an example, from what I hear, there are still lines of players waiting to buy-in at the more popular bingo events. We need to be at a place now where players enter the hall, find a seat and buy in everything they want right there at their seat. No more lines…Convenient, easy and efficient buy-in leads to happier, and probably more, players.
Not in a position to make fundamental technological changes in the bingo industry that would reduce buy-in lines here at Promoting Bingo, but we have promoted the use of QR Codes and business mobile apps for several years to help connect players more conveniently to their favorite bingo hall…through their phone. We recently introduced the use of QR Codes in our new QR Code/Coupon calendars. The idea is to have 4 codes on every calendar page that link to the most visited pages of a halls website hanging on every players wall. How convenient it is to just scan the codes and have: the halls current jackpots pop up, or the days specials or info on the next big event, or a code to access their account log in, appear on their phone, instantly. It's that type of convenience that not just players, but everyone, is coming to expect and demand in their lives. It should be the mission of all hall operators, to adapt to the times and give players what they want when they want it, to remain successful.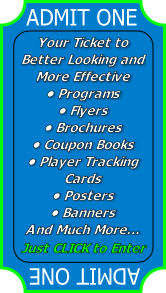 This
Space
Is
Available
For
Your
Advertising
Message
To
The
Readers
Of
This
Website.
To
Receive
A
Rate
Card.
Several
Sizes
And
Positions
Are
Available.
Target
Your
Message
To
Your
Specific
Customers
With
An
Ad
On
This
Website
While
At
The
Same
Time
Supporting
This
Worthwhile
Resource.


Both of these
Anniversary Gift ideas are
Currently available.
Visit the websites for
All of the Details.


Both the Anniversary Bingo
& Casino Calendars are
available as gifts for your
players anytime of the year.
These are 13 month calendars that will start on your anniversary month. New options available include coupon pages, image personalization, & pocket size calendars. There are also an unlimited number of themes
to choose from.
Click the calendars above for
all of the details.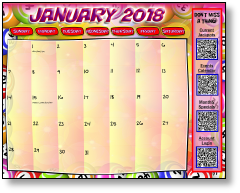 So starting June 1st, we are encouraging all clients of our traditional larger custom wall calendars to also include QR Codes on their inside calendar pages at no additional cost. These codes will add to the already significant value and usefulness of this communications tool for their players. Players will appreciate the improved convenience of access to critical hall information on a daily basis creating a better connection with your hall. And if your hall is more player connected and friendly then your competitor, you will obviously have the advantage.
Like we have pointed out, we are in a very highly competitive entertainment choice environment. Bingo halls need every edge they can bring to the battle to maintain and grow their business. Being proactive, aggressive and creative makes your success much more likely.
Look forward to your feedback. Email us at ideas@promotingbingo.com.
For more information on our Custom wall calendars visit our website HERE.