Copyright © 2016 GarJen Corp, All rights reserved

FACEBOOK AND THE BUSINESS OF BINGO (Continued)
The nature of this web based social network makes it an ideal tool for bingo halls to communicate and build on their personal relationships with their players practically for free. Every bingo hall serious about making their operation as successful as possible, should take advantage of what Facebook has to offer and make a commitment to spending the time required to keep it up to-date, interesting and 'alive'.
The costs are minimal and the rewards could be substantial. It's one of those things that you get out of it what you put in. With the right strategy and time commitment, it could make a significant positive impact on your bottom line.
There are 2 strategies available for bingo halls to take advantage of on Facebook. First is creating a Facebook page for your Bingo Hall. This page is where you will build your presence and your players can find you. The second is advertising on Facebook. Your ads on Facebook can be target specific, appearing only to those Facebook users who are of the profile you specify including geographic location, age, gender, etc.
Creating a Facebook page is easy. Building your 'Friends' list and keeping the page up to date will take a little more effort.
You can find instructions on creating your page here.
http://www.ehow.com/how_6304675_setup-business-facebook.html
Once your page is built, tell your employees and friends to sign up as a fan of your page. They will then receive all the daily information that you enter on your page on their page. Let your players know that you have a Facebook page and to do a search on Facebook to find your hall. You can also set what's called a 'vanity' URL, i.e., www.Facebook.com/bjsbingo. You can then use this url in all of your printed advertising and materials.
The generally accepted frequency of messaging on your page is one a day. Not more, not less. One a day has been found to be optimal. Message can include when jackpots go in the hall and identify winners, reminders about upcoming specials, welcome new floor workers, upcoming expirations, etc. All you have to do is type a message on your page and it is delivered to all of your fans. Very simple. There are also many options available to enhance the connection with your hall's website.
Creating your presence on Facebook and communicating with your fans is totally free. If you want to advertise, that will require a budget. The great thing about advertising on Facebook is that you can pinpoint specifically who you want to receive your message in the entire Facebook community. With 400 million users worldwide, you can bet a large number of users are in your area and with geographic targeting you can maximize your advertising dollar.
Instructions on how to advertise on Facebook can be found here:
http://www.ehow.com/how_2238669_advertise-facebook.html
If your not on Facebook, set some time aside to learn everything you can about it and sign up. This site provides a very comprehensive look at all the possibilities and, links back to Facebook for instructions for each option.
http://webworkerdaily.com/2009/07/21/32-ways-to-use-facebook-for-business/
Bingo managers are a busy group, but this is something that is definitely worth your time. Getting informed, making the long term time commitment required and being creative with Facebook will not only improve your bottom line but will go a long way to enriching your player relationships.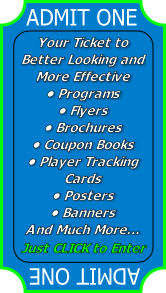 Both of these
Anniversary Gift ideas are
Currently available.
Visit the websites for
All of the Details.


Both the Anniversary Bingo
& Casino Calendars are
available as gifts for your
players anytime of the year.
These are 13 month calendars that will start on your anniversary month. New options available include coupon pages, image personalization, & pocket size calendars. There are also an unlimited number of themes
to choose from.
Click the calendars above for
all of the details.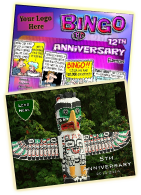 ALL NEW!!
Budget Friendly
Coupon/QR
Code Wall
Calendars
2 SIZES AVAILABLE
8 ½" X 11"
And
6" x 9 1/2"
Here is a promotional item that will not only fill the seats during giveaway day(s) but also keep players coming back all year
AND
Keep them well informed so they don't miss a thing!
We have designed these calendars to be affordable, cost effective, and with a reduced minimum of just 250!
Visit the website For All the Details.