Copyright © 2016 GarJen Corp, All rights reserved

Just for clarification, we will use the term 'Bingo Special' to mean an enhancement to the regular daily bingo schedule and the term 'Bingo Promotion' to refer to a more elaborate, multi-day event. The Bingo Specials featured on this page will be those that have been emailed to us from bingo managers, suppliers and others in the bingo industry. Feel free to change the numbers to fit your particular situation.
• 2 Part Special - Player buy-in for 2 sessions on one day for a discounted price.
• Bingo Buddy - Draw a ticket for each regular game winner to identify bingo buddy(s) who win the same amount as the regular winner or who could share $200 depending on the session.
• Plinko or Pachinko - Players love this game...Use it just like a wheel as a 2nd chance bonus.
• Senior discounts are popular, but have you discounted the 20, 30 or 40 somethings?
• Double Payout - On any session.
• Breakfast Special - Buy in for the 'large' pack and receive the breakfast special FREE.
• Employee Day - Create a special session for your employees only.
• Break the Bank - A special session with higher payouts, 5 games pay a guaranteed $5000.
Specials provided by Mike Anderson, Bingo Manager at Potawatomi Bingo in Milwaukee, Wisconsin.
You can visit their website at www.paysbig.com
• Themed Sessions - Dress your staff for these fun sessions.
° 'Red'tackular - Dress in RED. How ridiculous can your staff and players get...have a contest.
° Beach Blanket Bingo - Dress your staff in shorts and lays...Include player involved Hawaiian activities to win cash, prizes and free bingo. Create a special game schedule with higher payouts. Invite local Hawaiian talent to perform at half time.
• Holiday Specials
° St. Paddy's day - Best Leprechaun contest and points for all players dressed in green.
° Halloween Contests - Both costume and pumpkin carving. Best bingo theme costume.
° Thanksgiving - Annual Turkey Bowl - Players have fun using frozen turkeys for bowling.
• Rewarding Incremental Spend
° Mystery Envelope - For each $25 spend at the buy-in window, reward your player with a mystery envelope.
EVERYONE is a winner. Include a top prize, several mid level prizes and the rest with small prizes - usually a dauber or $5 off a future session.
° Treasure Chest - For each $25 spend at the buy-in window players receive a key to open the treasure chest. Have 25 keys that open the chest and the rest are non-winners.
Specials provided by, Jenynne, Bingo Manager at Bjs Bingo.
You can visit their website at www.bjsbingo.com
Dauber's Chance - SInce we are a hall that has both electronics and paper, we run a promotion called, "Dauber's Chance" one session per day. This is how it works:
We play a regular game until there is a winner. If the winner is on an electronic machine, we continue for an additional consolation amount for a paper winner. If paper wins first, the game is over. This really helps keep the paper players happy. It also increases paper sales and doesn't interfere with our electronic players. Try it out.
Special provided by, Joann Hammer; Bingo Operations Director; Sycuan Bingo.
You can visit their website here.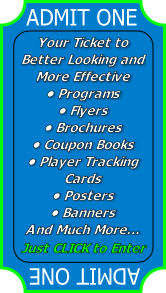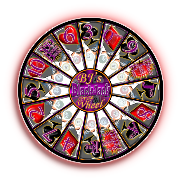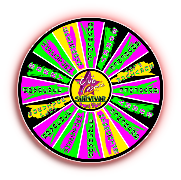 • Magnetic Replaceable Graphics
• Variety Flashing Light Patterns
• Battery and Ac Powered
• Sizes from 24" to 96"
• Heavy Duty Commercial Grade